Our mission is to be a business partner that our clients rely on to provide them with fast, high quality recordings that deliver results prompting them to recommend us to their friends and associates.
Why Choose INPHO?
We convert callers into customers, clients, and patients! Plus, we do all the work! We make sure callers stay on the phone and are more satisfied with their experience with your business.
80% of customers say the experience a company provides is as important as its products and services. When people buy from you, they're not just purchasing a product or service — they're purchasing the experience you provide, too (source: Salesforce).
At INPHO, we understand you don't have the time to learn a new system, or how to write great on hold messages, or phone tree prompts. We do that for you. Other on hold companies want you to use portals and proprietary systems to communicate with them. Some even want you to write the content.  Not INPHO, you decide how you want to work with us, email, over the phone, text, or a combination.
Our Focus is Our Clients
When you're a client of INPHO we have time to talk with you and even more importantly, listen to you. Long ago we found that if we concentrate on satisfying your needs, we will never have to think about finding new clients. To us, you're a valued partner, not just a client. We are representing your business, that's why we take the time to collect the right details, learn about your company's ideology, and figure out what makes you stand out in a crowded market. We want to impress you so that you will recommend us and that's how we grow.
A Message from Bob Vigil – President and Owner of INPHO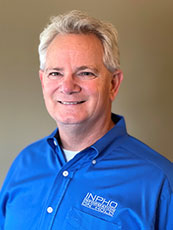 I've been in the 'phone' industry since 1985, starting as a technician while studying marketing in college. When I became a part owner of this business, I was able to put what I had learned to the test much sooner than I had expected. Of course, at the same time, I was given a crash course in ensuring that customers are fully happy. That was the most valuable lesson I ever received.
We developed the company and turned it into a profitable venture with the help of some fantastic employees. I sold my half and in 1995, I bought INPHO Information On Hold. My philosophy was and continues to be, to earn your business every day while giving you the choice to go somewhere else. That's right. Our responsibility is to treat you so well that you'll want to stay. We're still in the business of helping your company prosper by providing a great experience for anyone hearing our recordings. We concentrate on satisfying YOUR needs, from quality copywriting to professional voice talent, excellent music, and fast turnaround time. Long ago I found that if we concentrate on satisfying your needs, we will never have to think about meeting ours.
We have an "in-house studio," so we control the quality of our work from beginning to end. Each output is made to order, with no automated mixing programs used, resulting in a one-of-a-kind product. Our music comes from the largest production music service in the world which gives us access to music you won't find elsewhere. We match the right cuts of music for each message to tell an audio story of your business. Instead of tired old clichés  like "Your call is important" and "Thank you for holding". It makes all the difference when you make it intimate. I'm sure you'll be impressed by the high quality of our work and the exceptional level of personal service we provide at INPHO. Thank you for considering INPHO! We look forward to hearing from you soon.
Bob
Calls will influence $1 trillion in US consumer spending in 2021.
In our mobile-first world, calls are often the most convenient way for customers to learn more and decide to move forward with a purchase (Source: BIA/Kelsey).
Phone calls convert to 10-15 times more revenue than web leads
Calls are one of the most valuable ways companies convert business to business inquiries into customers. (Source: BIA/Kelsey). Use INPHO On Hold to impress, educate and cross sell callers while they're on hold waiting to buy, or schedule an appointment.
Callers convert 30% faster than web leads.
Calls provide a more immediate return on your marketing investment (Source: Forrester).
92% of b2b customer interactions happen over the phone.
 These interactions don't just happen during the purchasing phase — they take place throughout the customer journey. (Source: Salesforce).